In the first of a series, writer Angela Doyle Stuart shares her heartbreaking story of losing her baby girl, Isla Grace, at 18 weeks. Pregnant on her third baby, Angela tells Exquisite.ie how she and husband Stephen got through those traumatic months…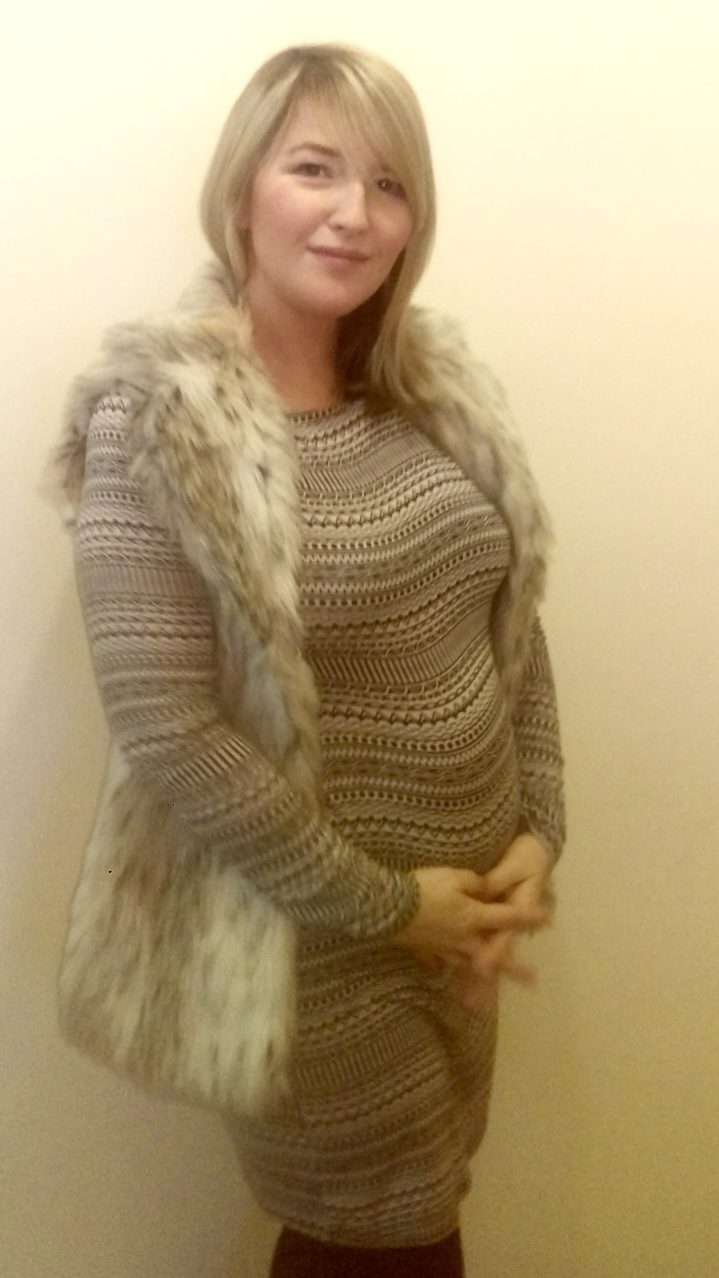 I married my best friend Stephen on the 11/11/2011, which I'm told is very lucky. We are together 10 years and our greatest blessing is our son Stevie. Myself and Stephen welcomed our gorgeous boy in July 2011. The love and joy Stevie has brought to our lives is indescribable. As Stevie grew bigger we felt the time was right to expand our family. So we got to work! We conceived within weeks and we felt blessed. This baby was so badly wanted. Our first antenatal clinic appointment was for Friday, February 26th in St Luke's Hospital, Kilkenny.
First the nurse brought me in and checked my urine sample. There were ketones in my urine. With Stevie I never had any of that. My blood pressure was also high. I had perfect blood pressure throughout my pregnancy with Stevie.
Next up was the scan with the consultant. We went into the room. I felt nervous. Stephen joked with me as they put the cold gel on my tummy. I felt slightly numb, and not from the gel. As the consultant moved the scan head around she asked if there was chromosomal abnormalities in either of our families. There wasn't. I asked why, thinking it's my age perhaps.
I'm over 35. Is this why she's asking? No. She mentioned there was fluid, a cystic hygroma on our baby's neck. I had never heard of a cystic hygroma. She suggested we go to the early pregnancy unit for a second opinion.
At this stage the panic had set in. Stephen was trying to keep his emotions in check and I was reeling with shock. I didn't ask any more questions. We made our way passed the waiting area. Looking at all the pregnant women. I smiled, I didn't want to frighten anyone before their scans. Patricia, in the early pregnancy unit welcomed us gently. She then proceeded to scan me. Explained that the baby has a large cystic hygroma which would indicate the lymphatic system wasn't working properly and this is usually associated with a chromosomal abnormality or heart defect.
There wasn't a high survival rate with this diagnosis. There was a lot more said to us that day but when the room is spinning you're only digesting so much.
Patricia made an appointment for us the following week with a top consultant in Holles Street, Dublin. We walked out of the hospital that Friday, petrified. We went to my mother and father-in-law's house instead of going home. They were all excited to see us and I just burst into tears. We had no idea what was wrong with our baby only that its chance of survival wasn't good.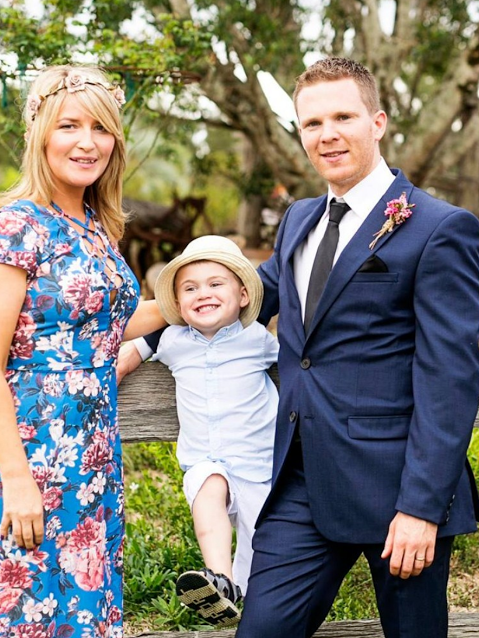 Stephen and I went to bed that night, held hands as we both tried to fall asleep. The whole weekend passed in a very lonely blur.
Tuesday finally came and we made our way to Holles Street Hospital. We met with Dr Higgins. He scanned my belly and explained what Patricia had already told us. We were offered an amnio or CVS. These test are a little invasive and we were concerned our little one was already in a compromised position so we asked about the Harmony test. They explained it would cost us 400 euro. We asked if we could have it that day. We took the blood tests.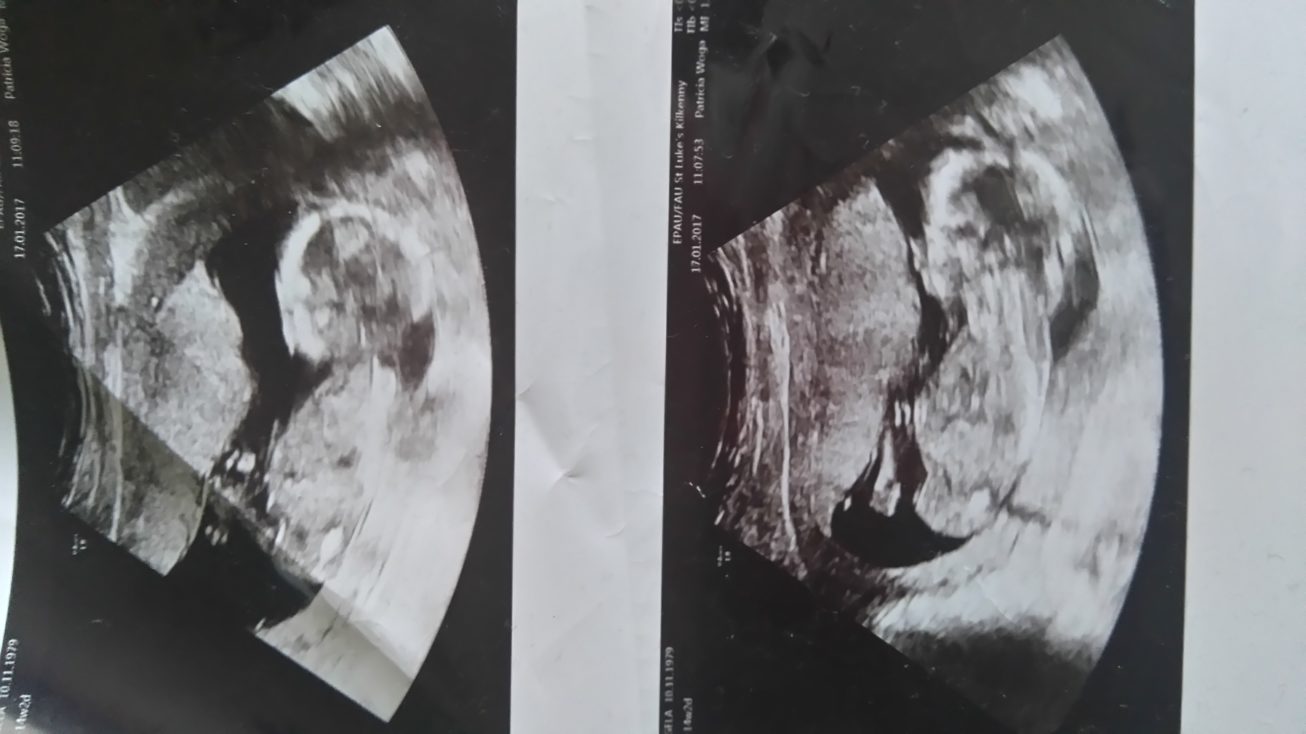 Two weeks passed. I tried to stay normal. I made sure Stevie's day ran smoothly and he was non the wiser of the turmoil his mummy and daddy were going through. When I hadn't heard from the hospital I called them. The secretary took my details and that Friday evening Dr Higgins called. I knew it wasn't good. He was so lovely and gentle as he explained he was hoping to have spoken to me the following Tuesday in person but understood my anxiety about the results. I told him I wanted to know and I learnt our baby had 99 per cent Down Syndrome. They had suspected that.
I asked what was the gender of my baby. He said a girl. Then the tears flowed. I was having a little girl. I thought in that moment because the diagnosis was Down Syndrome that meant our baby would live.
I said to Dr Higgins I would pray all would work out and he said he would too. When Stephen came home from work I told him. He took the news really well. We both thought this meant survival. I immediately got online and started researching what Down Syndrome meant for us. I looked up places close by that offered information and support.
I learned of all these incredible children and adults with Down Syndrome. I learned of the hard times too. Stephen imagined our little girl with blonde hair, cheeky grin and full of mischief. We slept good that night.
The following day I returned to work. I was reporting at a charity event and the first person I was asked to interview was 12 year old boy with Down Syndrome. He was gorgeous. His friends warned me he'd be effing and blinding on camera and he had a good giggle. He was brilliant. I thought this has to be a sign.
I spoke to him and imagined my little girl has Down Syndrome too and she'll be just as adorable as you. The rest of our weekend went really well. Tuesday came and we made our way to Dublin to see the consultant. They greeted us warmly and mentioned our Trisomy 21 diagnosis. I mentioned the little girl part. They explained that with the diagnosis of Down Syndrome and the Cystic Hygroma that death was likely. They scanned us and explained the fluid was now spreading and was all over our little angel's tummy.
They explained Isla Grace could pass any hour, days, weeks or even a few months. Either way our baby wasn't going to make it through. I walked out. I cried so hard. I had no control whatsoever.
In that moment I was powerless. As a mother your instinct is to protect and mind your child, you would do anything for them. I was so helpless. There was absolutely nothing I could do. I was trumatised at the thought my baby could be dying at that very moment and there was nothing I could do to save her or make her better. We were both in shock as we left. We didn't sleep that night. The next day I brought Stevie to pre-school. It was a beautiful sunny spring morning. I decided I would go for a walk.
As I walked around I felt something change within me. The past few weeks had been a rollercoaster of emotions. Then I looked up and could see something falling from the sky and I reached out. It was the smallest, whitest little feather I had ever seen. I knew in that instant my baby had died and was saying goodbye.
I blew the feather away and I whispered – Isla Grace, it's ok you can go now. You will always have a mammy, daddy and a big brother who will love you forever. There was this beautiful moment and I felt a great sense of peace and warmth. I also felt while I had changed with the experience, that It wasn't necessarily about me. I felt Isla Grace came here for a short journey that was meant for her. To have a name perhaps, to have a family. and to know that as long as we live she will be so desperately loved. The week went by and I started to grieve. We had another appointment in Kilkenny and Patricia confirmed our baby had passed away.
Myself, Stephen and Patricia all hugged and cried. Patricia, is to me, an angel in disguise. I would have been lost without her. We left the hospital. Got into the car and we hugged and cried our hearts out.
I decided to hold onto Isla Grace for one more week. We then made our way back to St Luke's for an assisted miscarriage.
The staff were amazing. I was fortunate that my experience was over quickly. After a small dosage of the prescribed tablets my contractions started, my waters broke and I finally experienced what a natural labour was like. Of course our little baby was tiny and fit right in the palm of our hands. We were given a beautiful baby duvet as a keepsake and our Isla was wrapped in a lovely blanket and placed in a beautiful white coffin.
I held onto that coffin until the day we buried our baby. We buried Isla Grace with my mother and my sister Lisa.
I felt a sense of comfort in this. It's very hard to put your baby into the ground. The only comfort was knowing Isla was with Lisa and Mammy. As I look back over last year I can only say while it has been traumatic and heart wrenching it has also been a year of enormous growth, for me personally but also with my husband. The love I felt for Stephen was precious but now it's gifted. As I write this, almost a year on from that initial diagnosis, I can't help but smile, as new life now kicks and flutters away within me, reminding me, that despite the darkness, there's always light, there's always hope.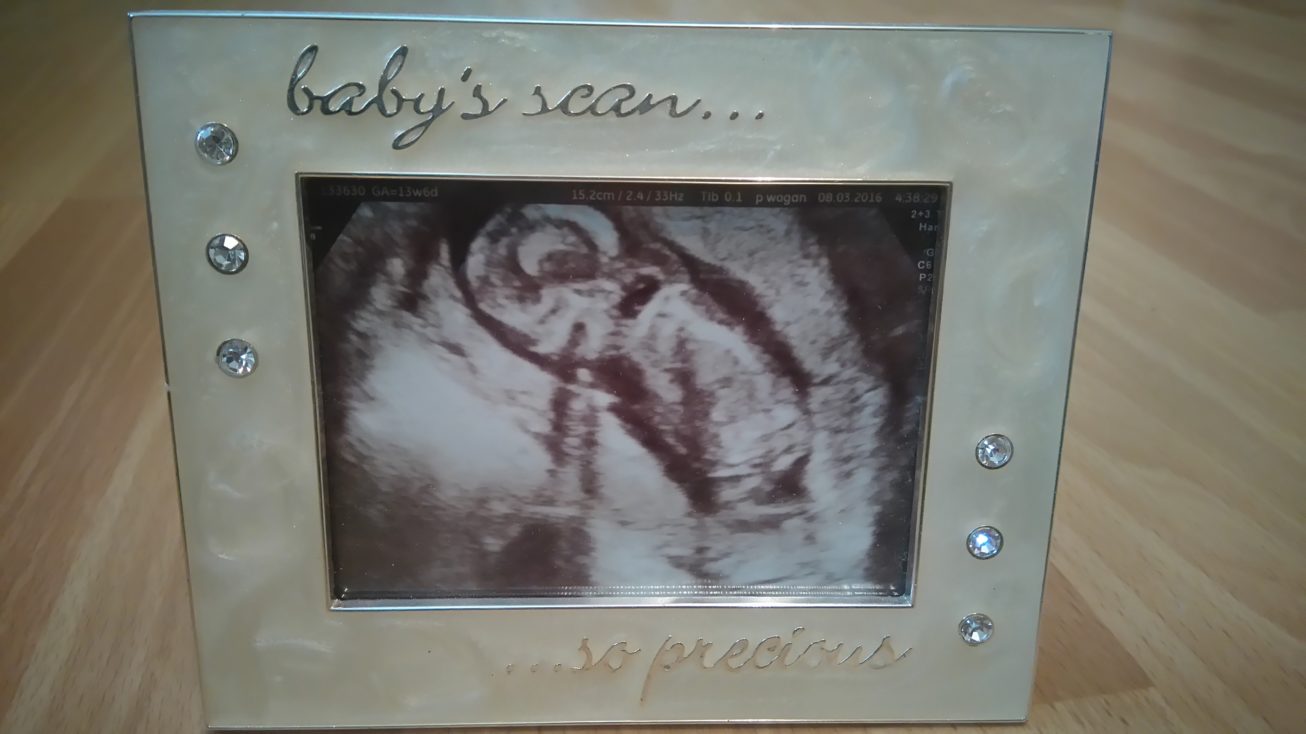 Next week Angela will tell Exquisite.ie how she and husband Stephen got to the point where they were ready to try again.
You can follow Angela on Snapchat on: Angeladoylestua or email on: angeladoylestuart@gmail.com