Why Stylist Irene O'Brien chose her mother's wedding gown for her Big Day…
Vintage lover and stylist Irene O'Brien tied the knot with the beau Mel Maclaine in May this year wearing her mother Ann's wedding gown. In converstation with Aisling O'Loughlin, this natural optimist talks love and tradition with Exquisite.ie
---
Choosing 'the dress' is such a big decision for any bride, why did you go for your mother's gown?
A few years back I was helping my mum do a big clear out of her house and she brought down the box that the dress was stored in. We took it out and I was in awe at the condition that she had managed to keep it in. She was giddy and convinced me to try it on which I did and, amazingly, it fit like a glove. Then she said (as only my mother would), 'Let's jump in the car and we'll drive around to show Cathy (my older sister)'. Sometimes you just have to go with these things so off we took, rubber gloves still on her and a smell of bleach off both of us, and landed into Cathy's driveway. When we rang the doorbell it was my brother in law that answered. I will never forget his face. We didn't refer to the dress instead just asked, 'Is Cathy in?'. He told us no and then looked at us expectantly but we just said 'Ok bye!' and took back off home. He told us afterwards that he wondered if it was a really elaborate way to tell him I was engaged. I wasn't even with Mel a wet week at that stage! It still makes me laugh. I mean, what must the neighbors have thought watching us take off like that? Mum buzzed off it for months.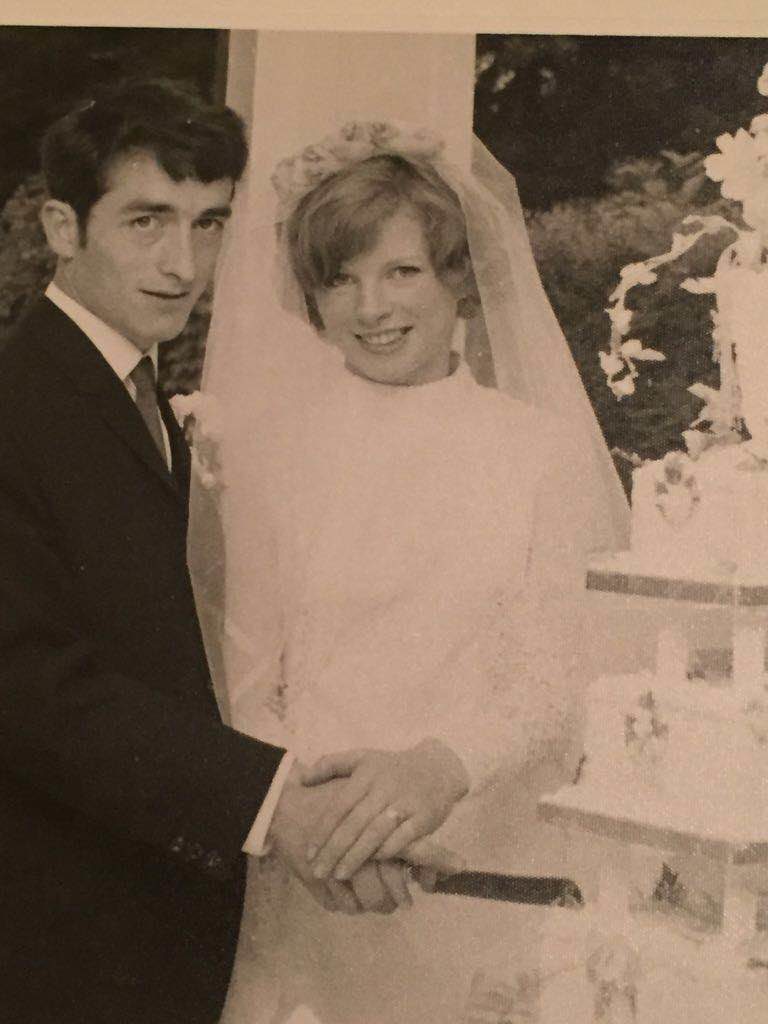 Anyway, from then on I kind of always had it in my head that if I got married I'd like to wear it, even though I didn't really remember what it looked like for the following years. I did know that the sleeves were long lace and the neck was high, both of which stuck in my head as a style I really love.
When I got engaged we were in New York at the start of a month trip away which was culminating in a family holiday in San Diego to celebrate my Papa's 70th birthday – my siblings and their other halves and my new nephew were also coming from Melbourne – so it was really special seeing everyone then to celebrate everything together. During that time, I was kicking around the idea of wearing the dress when it came up in conversation. I think mum was inwardly chuffed but kept insisting that I shouldn't feel any pressure to wear it and I should try on a few other dresses when I got back (which I never did).
Tell us about your wedding day. Were you nervous? Any hiccups?
It was the last day of May and the sunniest day of the year so far which set the tone for the entire thing. Everyone was in amazing spirits and showed us so much love; it was magical. It's amazing how much fun Irish people have in the sunshine regardless of anything else. We could have just left them sitting by the lake house for the full day without any food or entertainment and they still would have had a ball, I reckon, so we were very lucky on that front. Also the setting really lent itself to good weather. We got married in Mount Druid in Castletown Geoghegan which is a boutique camping spot that Mel and I had stayed in a few years before when we fancied a couple of days in a Yurt. At that time, they weren't doing weddings but they were building the chapel while we were there. Once we got engaged it was the only place we considered going. The family are amazing and were so chilled from the moment we booked it and this carried through to the day. That definitely helped the atmosphere. It was taken over by just us and our favourite people so we had the craic from morning until night (until morning; both days!)
I wasn't really nervous at all, just excited to see Mel. By 2.30pm I was dying to be with him – he had played golf and was with his family that morning. I was with mine and pals came by and drank bubbles so it was all relaxed and fun. For me anyway; I think Mel got enough nerves for the both of us! But he said once I got to the top of the aisle he was fine. Maybe he wasn't sure I'd make it!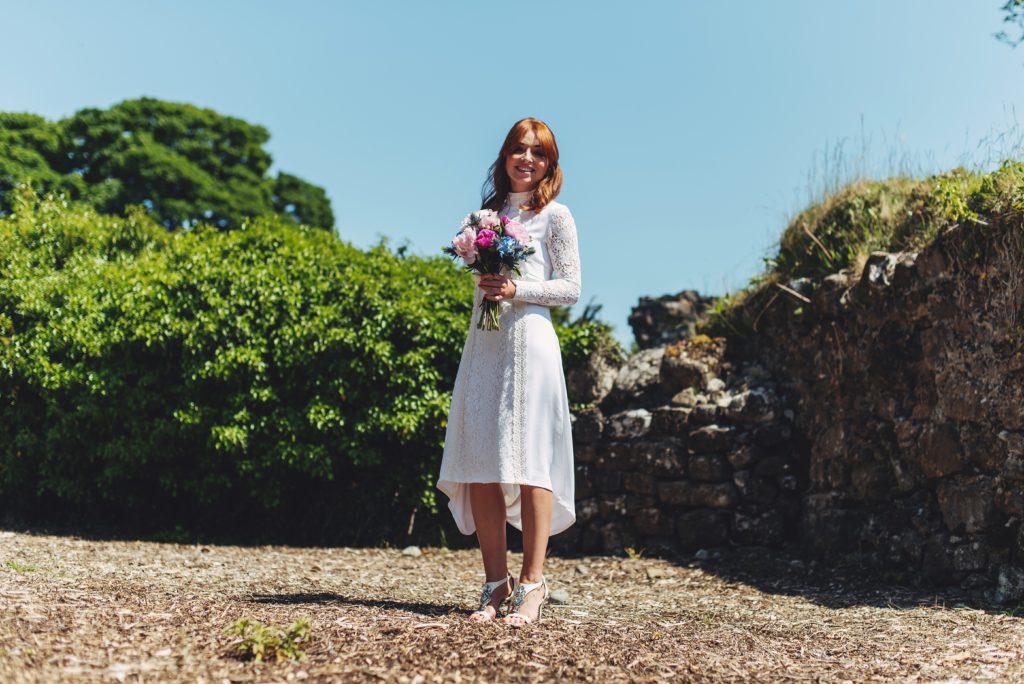 Just before I walked up the aisle, someone closed the door behind my sisters and nieces who had walked up ahead of me. I was linking dad's arm and I felt him take a big breath in and blow it out. It was probably less than half a minute but the emotion of that incredible little moment bowled me over and, as I heard the start of Tender, I was just about to lose it. But then, when the doors opened, everyone started a massive round of applause which made me burst out laughing and I beamed my way up to Mel.
There was lots of clapping through the whole ceremony which I loved as I'm a fan of a good clap and cheer!
The ceremony was definitely what I looked forward to most and it turned out to be my favourite part of the day. It's so, so special to be surrounded by so many people that are rooting for you, witnessing you commit to each other.
I was blown away by the feeling in the chapel. It's unconsecrated and we had a Spiritualist ceremony.
It was perfect for us as we didn't want it to be solely one or the other's church (Mel was raised Protestant and me Catholic; we're bridging the divide!) but we also didn't want the place to spontaneously combust if someone referred to God and we were told by some celebrants that it wasn't allowed at all. It was a perfect balance of music we liked, readings we loved – some of which our family and friends wrote for us –, family and friends involvement, a beautiful ceremony, and a celebration of fun and love. I wanted everyone to feel included and I hope they did. Mel and I got a massive kick out of the whole thing anyway!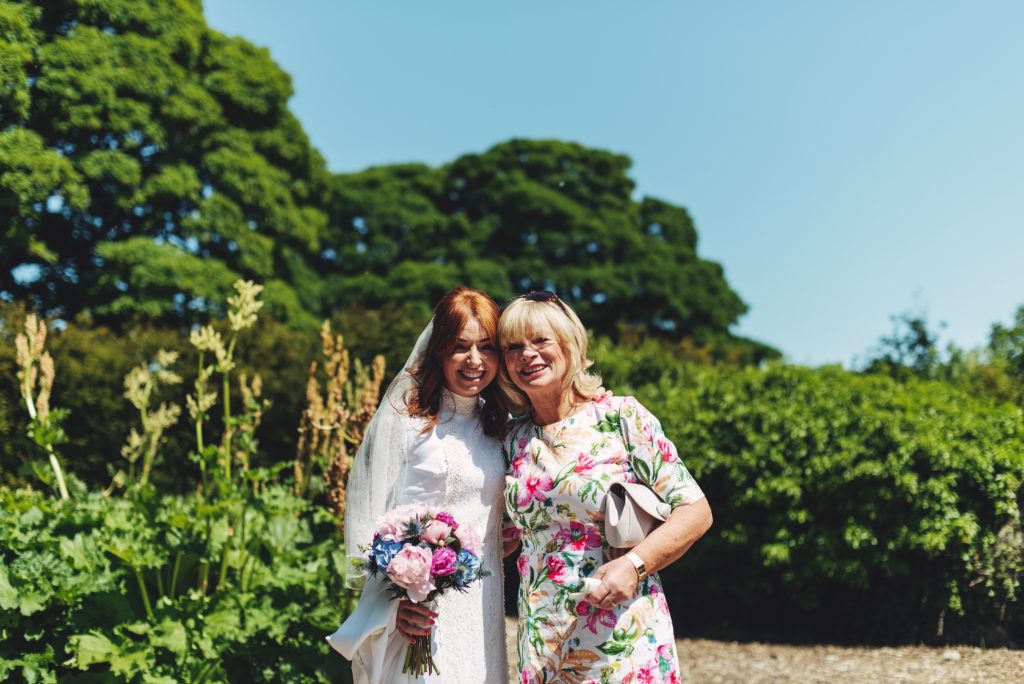 We brought an apple tree and tied ribbons around it to remember those we have lost. After we added them loads of people queued up and added their own to celebrate their people that weren't here anymore. It was emotional but beautiful and we were so touched that everyone took part. And it was great as we got to see everyone and admire what they were wearing. I would have missed that in the absence of communion!
We planned to do speeches early on but never got around to it so did them up at the barn. They were incredible. Both my dad and Mel's made beautiful, funny speeches.
I was a bit nervous for Mel as it's not at all his scene but before I knew it he took to the stage and was leaning against a pillar getting totally into it.
Then the best men! They absolutely blew us away; there were props, pictures, hysterical stories, everyone was in fits. I enjoyed it all that I totally forgot to make my speech! I was adamant that brides should speak instead of having everyone just say nice things about them; I really wanted to celebrate Mel. I needn't have worried though as the best men had that covered. Initially after the wedding I was gutted I hadn't said anything (it was only short anyway) but actually, now that I look back, I'm glad that it was Mel's moment and not mine as I'm always rabbiting away in one place or another. I know some people find the speeches painful at weddings but I'm always dying for them so it was deadly to enjoy our ones so much.
How did you know Mel was 'The One'?
I met Mel on The World's Most Dangerous Road in Bolivia and we had an instant connection. I had never known anyone to make me laugh so many times a day. I LOVE laughing so that was a major attraction. He had been living in South America for a couple of years and I went off on my travels again a few days later so it wasn't for a few months until he was back in Dublin but we always stayed in contact. Honestly, I always thought I wanted to be with him forever but you kind of chalk these things down to infatuation as we hadn't known each other long but I think the time we stayed in touch via email and hours at a time Skype calls meant that I knew it was something.
How did he propose?
He proposed on Brooklyn Bridge, half way between Manhattan and Brooklyn; his thinking was that he knew how much I loved both places so reckoned it was the ideal setting. The thing is, I would never want to have a public proposal and Mel knew that about me for sure. However, it was a Sunday in June and Mel hadn't factored in the fact that other people might also like to walk one of New York's biggest attractions! We were in a sea of pedestrians and cyclists so I was booting along weaving in and out of everyone and he was having palpitations trying to slow me down and consider his move.
Eventually he stopped me and said we'd get a photo, doing a classic 'look over there' move to distract me and get down on one knee.
I nearly died as all I could think about was an audience so I immediately started telling him to 'get up, it's ok, get up' but he wouldn't so I got down and knelt beside him and he looked at me as if I was crazy.
It was hilariously ridiculous and I absolutely ruined his moment as he couldn't remember what he had been planning to say, which really didn't matter as I can't remember what he said anyway I was so distracted by trying to not look like I was being proposed to! Eventually I said yes and we sat down on a bench and looked for someone to take a sane shot of us. This Asian man came along with about 6 huge professional cameras around his neck so he looked like the best option. I was hyper, trying to explain that we just got engaged but he really didn't care in the least but he got the message about the photo and took a great shot (on our camera!). We have the photo framed and I love it as it reminds me of how majorly I failed at being proposed to. Then we continued on to Brooklyn, and tried to find a nice bar somewhere to have champagne and toast. The first place that we went looked ideal but they wouldn't let us in as there was a private funeral (fair enough). The next place wouldn't let Mel in as he looked too scruffy.
Eventually we found a place selling cans by the waterfront so we drank cheap beer and phoned our families from there.
Both of our batteries were dying so we asked the barman if we could please charge one but he wasn't having any of it. Eventually we pulled the engagement card and he begrudgingly did it for us. Then after a couple of hours when our bill came for our overpriced cans he plopped it down in front of us with a scrawled 'congratulations' on the bottom, like an afterthought. We still have this too as it was the most hilariously begrudging well-wish we received. Actually it made our day! We moved onto the Smorgasbord food market where we ate lobster rolls before finishing the day at Mister Sunday, a daytime rave in Brooklyn where we drank more cans and told more strangers our news. It was perfectly imperfect – one of my favourite ever days with Mel.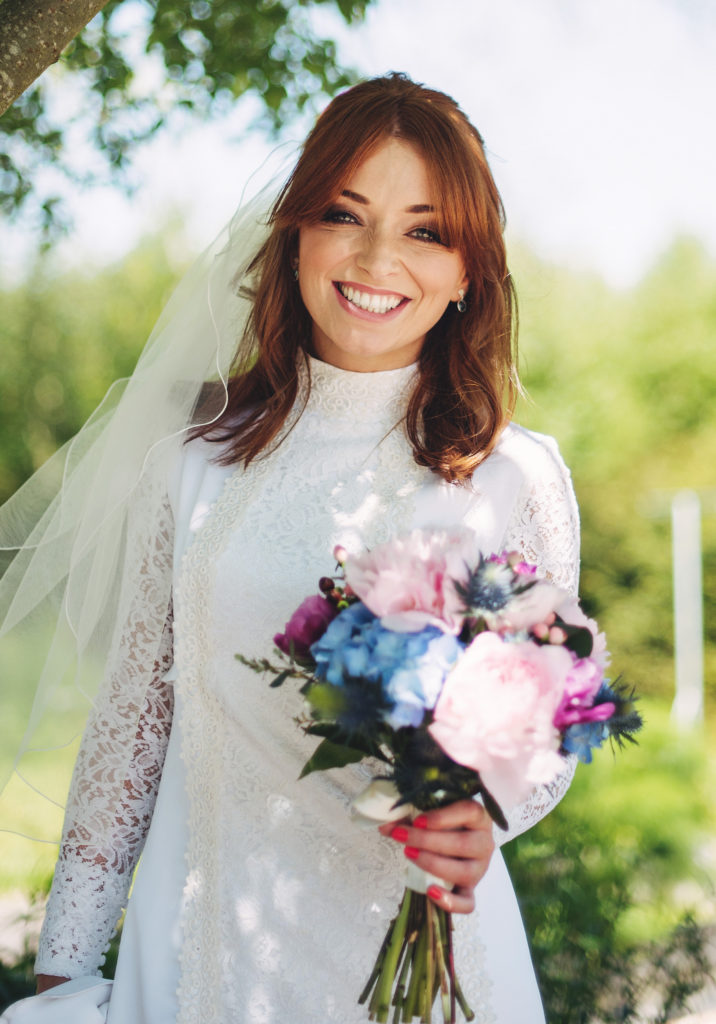 What was your mum's reaction when you told her you were wearing her dress?
I think she was just delighted that I liked it so much! When I first tried it on in Dublin I wasn't sure how it would fit or look but as soon as I had it on I was thrilled. To be honest, I'm useless at making decisions so had I been shopping for a dress I might have struggled but this was a no brainer. I know she loved seeing me in it and was just flattered that I liked it so much. I'm so grateful that she looked after it so well. The amazing thing is that it wouldn't have fit any of my sisters, even if it was their style, so as far as I'm concerned it was meant to be.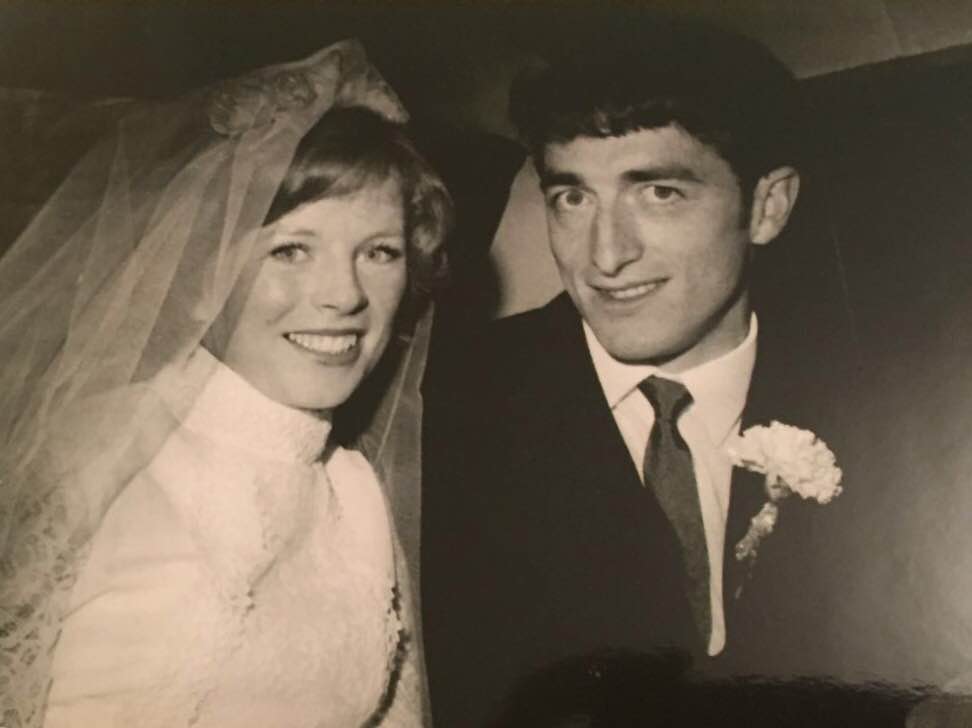 Mum is much taller than me, and the style was to wear is slightly above your ankle when she got married in '69, so the length was a bit funny so I knew I'd do something about that but wasn't sure what. When looking for something for my head I brought the dress into Dirty Fabulous and told Caroline I was thinking of taking it up on the front. No better woman, she pinned it for me and agreed it was the way forward. My amazing dermatologist Peggy (from Monkstown Laser – massive shout out to her as she brought me from adult acne to glowing for which I will be forever grateful) introduced me to her business neighbor Ann in Texture, Monkstown one day and I had it in my head that she might be the lady for the job. I called in and ran it by her and, although she was up to her eyes, she said she couldn't resist. I had a couple of fittings with her and she took it in for shape and created the restyle.
She also talked me down from buttoning it up into a short dress about a week before the wedding and I'm so grateful she did as I loved having the train in the end, albeit shorter than my mum wore it.
There were a lot of talented folk that contributed to focusing my confused mind – I love those women!
Where did your mum get her dress?
She says she loved the stand-up collar and the lace sleeves when she saw the dress in Rufina's window. Rufina was a beautiful African woman living in Ireland. She only ever put one item in her Leeson Street shop window in Dublin. Her workshop was on the premise. The price tag on the dress was £32 which would equate to €850 today.
My mum was saving for the dress and at one stage went in with a further £5 payment when Rufina told her that others liked the dress and she felt she could get a better price for it. My mum was really troubled and Dad came in with her to show support and to negotiate. It worked and as quickly as she could get the balance together she was out the door.
Do you think you've been influenced by your parents' relationship?
I think that Mel and I have both definitely been influenced by each of our sets of parents' relationships but they are so completely different, as were our upbringings. Mel was brought up in Portadown with just one sister in a house I imagine to have been very calm and organized. Ours, not so much! It was a slightly more chaotic house with lots of coming and going. Their ways, traditions and approaches are totally different to each other's but the one trait that shines through with both sets of parents is kindness.
They would all walk on coals for each other, for us, and for strangers. I see that in Mel and I know he didn't lick it off a stone. Kindness is something I value above all else and I know this is an absolute reflection of my parents.
When everything is falling down around you, or when there is stress, concern or upset, the one thing that we can always be is kind.
They are far from perfect, my parents (sorry guys!) but this is something I always admire in them. My parents show it in very practical ways like lifts all over the county (literally), dinners dropped on your doorstep when you're working late, handwashing (mum, but dad will drop it off hanging in lovely plastic wrapping), inviting near strangers to stay for Christmas, the longest list of waifs and strays that they never forget about. I hope that we'll be as generous during our marriage. Mel's brand of love showing is definitely in the same vein – green tea every morning, just the right amount of cinnamon on my porridge, lifts galore (we call him King of the Lifts). Mine too probably; electric blanket on when he's in late from work. The odd shirt ironed when I know he's really busy. All the sexy, rock and roll stuff, basically. Of course my siblings and I kill my parents for everything I just listed above! We give out that they spread themselves too thin; we tell them how they should be living their lives, give exact instructions, and vow never to behave in some of the ways they do. And then, slowly but surely, each of us is turning into them, in one way or another!
I think Mel wishes his families zen, organised existence would rub off on me a little but I'm afraid that perhaps this is just how I'm wired so it's a lost cause. I guess he'll have to bring the calm to this particular marriage.
---